The RF6-Cloud is your portal to a number of really useful Apps that almost every business or government agency has a need for.
Get started straight away using our ready to go Apps
RF6-Cloud is a brand-new paradigm designed to bring sophisticated, scalable applications to any organization no matter how small. It works because we automated all of the processes and made the Apps available at a low cost, just dollars per month per user.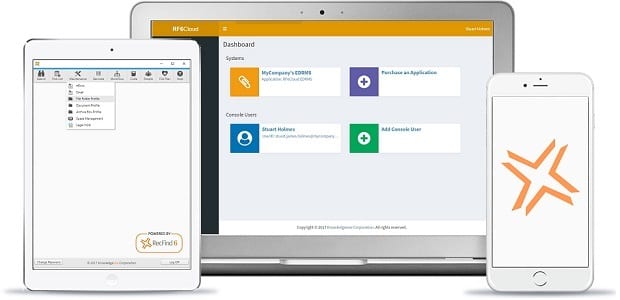 Manage your content on the go
Use our web client to upload, manage and view content – from anywhere.
Cut costs and save time and effort
Combine your efficiency gains with your IT savings by using cloud based applications.
Ensure regulatory compliance
Easily identify and manage records that are needed for legal and compliance purposes.
Mission Statement
We realized that the Information Management industry was still stuck in the 20th century and that we needed to break away from the old 'expensive to buy, hard-to-install, expensive to maintain, hard to use, hard-to-setup, expensive consulting, expensive training' paradigm and completely change the way businesses can acquire and run essential business applications.
Our aims were to make our Apps low cost, easy to acquire, easy to setup and configure and easy to use.
We did away with any need on your part for IT expertise, computer hardware, computer software, application and hardware maintenance, backups, recovery, expensive onsite consulting and expensive onsite training. Our new model dramatically reduces the Total Cost of Ownership (TCO) of many common business applications.
All you have to do is sign up and run your applications. We do everything else.
And more good news; no more hugely complicated monthly Cloud bills that no one can fathom or reconcile. We bill on a flat fee per user per month. Totally transparent and totally consistent. Your accounting department will rejoice.
RF6-Cloud is a 21st century solution for the 21st century. Once you have tried it, you will never go back to the old model.